Using Fairbnb.coop while travelling is an easy and secure way to book your accommodation while helping to crowdfund social projects in the place where you travel.

Book your Fair stay in one of our 6 pilot cities.
You did not find the destination you were looking for? Click here
Why traveling with Fairbnb.coop matters
Join a global movement
Fairbnb.coop empowers you to support local community projects in the communities you travel to. That's because everytime you book an accommodation, Fairbnb donates 50% of the booking fee to a local social project in your area.
Support the communities you visit
Fairbnb.coop is more than just a booking platform. As a traveler on Fairbnb, you are part of a global movement dedicated to transforming the tourism sector into one that is more sustainable and equitable for all.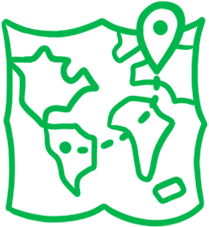 Book your stay
Browse through destinations on the BETA and book an accommodation where you want to travel.
Choose a social project
To complete the booking, choose a social project you want to donate the fee!
Send a request
The host will have 48 hours to either confirm or decline your booking request
Enjoy your stay
Post a review and give us feedback to help us improve your experience
Start traveling using Fairbnb.coop