#TravelFair is Fairbnb.coop's answer to #buildbackbetter
When it comes to travelling and making holidays we all seek a relaxing time out from our daily routines and responsibilities. And it is tempting to leave good habits behind. So our message this summer 2021 is simple: make sure you pack your values too
, and #TravelFair!
Once the pandemic hit the tourism market – people quickly realised how urgently this industry needed a change. Nature rehabilitated itself, locals recaptured public spaces and people started to rediscover their own countries – naturally enjoying slow tourism and local, regional travels.
Now, that the summer season is starting to slowly be back in full swing, bad habits are slowly sneaking their way back into the tourism industry. Seeing the boarders opening again, and the first cruise ships reentering the lagoon of Venice locals start being concerned that their time out from mass tourism will soon end and that after the pandemic tourism will continue just like before.
The question arises whether all the campaigns regarding #buildbackbetter really meant to make a change in the industry or actually served the goal of #buildbackfaster?
At Fairbnb.coop we believe that it's time for a change and moreover: we don't just talk the talk – we walk the walk!
Using 50% of our platform fees to reinvest in local communities our business model is geared towards promoting sustainable tourism and motivating people to adopt better and fairer travel habits that will actually help to #buildbackbetter. With our latest summer campaign, we aim to make your decision for a fair booking alternative as easy, as convenient and attractive as possible.
The idea behind our summer 2021 campaign
When it comes to travelling and making holidays we all seek a relaxing time out from our daily routines and responsibilities. And it is tempting to leave good habits behind. So our message this summer is simple:
There are many reasons why we all want to travel again. Some travel for the culture, others for nature, to reunite with friends or just for some well-deserved time-out after months of quarantine.
We at Fairbnb.coop say: GO FOR IT! Travel! Explore! Enjoy – BUT make sure that this time you pack your values too.
No matter what rocks your boat, with Fairbnb.coop you can make sure you travel in a FAIR WAY and have a positive impact wherever you go!
With this statement we are going to kick-start our new summer campaign in July, inviting people to rethink their travel habits and especially – their booking behavior. For us this is the right moment to tackle 3 important challenges at the same time:
Make people aware of our new Platform Relaunch;
Motivate people to travel in a "fair" and considerate way;
Show to the world that sustainability can be cool and exciting too.
We will activate all our communication channels throughout 2 months starting with an international image campaign via social media channels. Besides Blog Posts, Newsletters and Press Releases we are also preparing a PR Folder containing several campaign materials that will be shared with our Marketing Partners and fellow Cooperatives in order to increase the reach of our campaign.
In our second phase, we will tailor the campaign to specific countries, highlighting the beauty of our active destinations, offering our active hosts the possibility to present their listing throughout our communication channels via a personal interview/ Blog Post.
In our third campaign-phase, we will push a slightly adapted version of the campaign – tailored to hosts using the hashtag #hostfor instead of #travelfor. We first aim to increase the number of hosts in our active destinations before pushing the campaign in new areas where we are not present yet.
From Community Powered Tourism to community powered marketing
Creating content and campaigns on a low start-up budget is always an exciting challenge for us. For the development of our summer 2021 campaign, we are more than thankful to have had great support from various marketing professionals and volunteers who participated in our weekly open marketing groups (thank you Winnie So, Branka Tokic, Jim Lee, Elke Dens… ) , testing and fine-tuning our ideas in small focus groups and insightful discussions. Another big thank you goes out to Dnaitalia.com and Paola Grenzi for realising our creative concept and supporting us on the video editing of our campaign. Mille grazie!
Now it's your time to become part of our community powered marketing and moreover: become part of our community powered tourism! Make sure to share our mission for a FAIR Tourism Alternative, consider our FAIR booking alternative when planning your next trip and remind your friends, family and your followers to pack their values when traveling for holidays this summer 2021!
Do your part and share our video with the message: #travelfair and #packyourbags with #values too!
#summer2021 #valuesmatter
#travelfor #bethechange #fairbnbcoop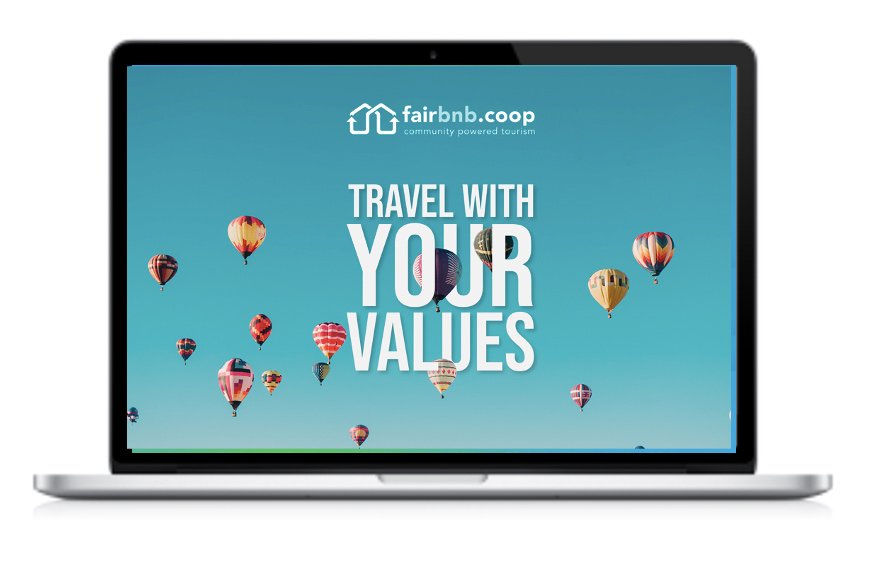 Why Fair?
How it works:
The Host earns the same,
the Guest pays the same
but the benefits are for the whole community.
50% of our platform fee is used to fund a project of your choice for the communities you visit.

This is a what we call
Community Powered Tourism.