Social projects, the differentiating value of Fairbnb.coop
In order to counter the negative effects of tourism and give the communities more power, Fairbnb.coop reinvest its profits in social projects proposed by locals: pick the one you want to support during your next holiday in Europe!
In recent months, we have proposed a survey to 1.500 among our followers, both hosts and potential travellers, to gather a better understanding of what can make tourism a resource rather than a burden for communities. The local aspect emerges as the most important factor, and it is precisely what differentiates Fairbnb.coop from other booking platforms.
How Fairbnb.coop supports local social projects
By booking a holiday home with Fairbnb.coop you can positively impact your next destination: a part of what you spend will be delivered to a local project for the community you will visit. While Fairbnb.coop, like other platforms, charges a commission, we differentiate from others in terms of how it is used: 50% of the platform fee is intended for financing social projects.
This is what we call Community Powered Tourism.
From assisting the homeless to improving the quality of life of the elderly, here are some of the social projects you can support by booking holiday lettings in our pilot cities across Europe:
Visit Barcelona and help its homeless
You can enjoy your holidays in Barcelona without worries: Arrels Fundaciò, the N.G.O. we support here, will take care of helping the people who live in the Catalan metropolis in conditions of greater discomfort.
Since 1987, Arrels looks after and guides the more than 4.200 homeless people who live in Barcelona, helping them to live a better, more independent life:
Arrels covers their basic needs, provides them with social and medical attention, and offers housing to those who find themselves in a more vulnerable situation.
Furthermore, Arrels is active in raising awareness among citizens regarding poverty issues and proposes solutions to local administrations to solve the most complex and delicate situations.
Find Amsterdam more green and welcoming
Strolling among the Renaissance buildings overlooking the canals of Amsterdam, not far from the artisans who make chocolate with fair trade cocoa in the east of the city, you may encounter some green oases, the result of one of the social projects that Fairbnb.coop supports in the Dutch capital.
The goal of Bloei en Groei Association is to empower immigrant women through their work in urban gardens, which serve as a healing, food and community garden for neighbourhoods and districts where they are most needed, mostly in Amsterdam Southeast. Besides the cultivation of vegetables, women can also work on a personal flowering project.
"Gardening is an activity that I can fully absorb. You can be yourself, but you are also part of the whole."
Sustainability forms the basis of everything Bloei & Groei does. The interaction between humans and nature is what drives the project, in big and small things: from the way of gardening, the product packaging to the close involvement with the neighbourhoods.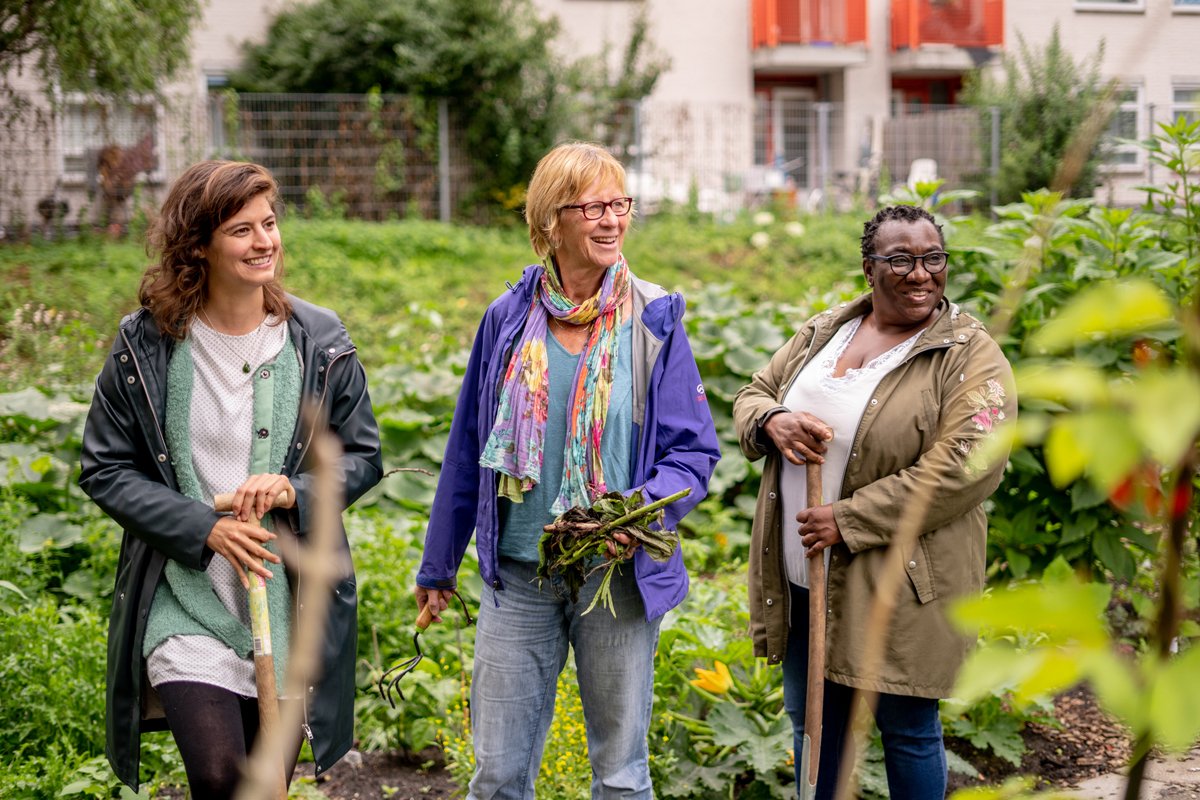 Hospitality in Marseille is rich in history and diversity
In the Northern districts of Marseille you might discover well-hidden but infinite culture and history, that the inhabitants are digging up for themselves, and… you!
To make these districts, their heritage, and their hospitality alive, the Hôtel du Nord cooperative obeys a very simple principle:
"We sell what we make, we make what we sell, in the interests of all who live, work or spend some time in those Northern districts of Marseille."
You may be received in some guest rooms by inhabitants at their own places, or stay in some independent flats or cottages next to their homes, thus enjoying a sharing experience, explore the area through very special walks, taste local delicacies, and discover the texts, images, and sounds which are the result of an enthusiastic effort to make those districts of Marseille as well-known as they deserve.
Porto and its Seniors are ready to hug you
By booking a holiday home in Porto with Fairbnb.coop you will help the work of the more than 100 volunteers of G.A.S. PORTO, a Solidarity Action Group that aspires to a society where, whenever possible, the elderly have the opportunity to age at home with quality of life and dignity.
For this, Abraço Amigo project (means Friendly Hug) promotes weekly home visits to more than 60 Senior people in Porto city center to fight their loneliness.
Alongside, G.A.S. PORTO develops cognitive and physical stimulation activities that reinforce their autonomy and support them in their daily activities. The main goal is to encourage active and healthy aging with greater social integration and reliable relationships.
Social projects in Valencia aim to include… you too!
By booking a room or apartment in Valencia you can contribute to the financing of the activities of Orriols Convive, a community project that promotes a model of intercultural coexistence and social integration based on citizen participation in the Orriols neighbourhood.
These are the main goals of the project:
To promote the participation of neighbourhood groups and actors in identifying and solving their difficulties and in improving the common well-being, in turn fostering a feeling of belonging to the neighbourhood;
To establish relationships of intercultural coexistence, positive interaction, knowledge, mutual recognition and cooperation between people, groups, social organizations and institutions that favor the social integration of the migrant and indigenous population of the Orriols neighbourhood;
To encourage the promotion and empowerment of migrants as actors and protagonists of the neighbourhood, favoring their participation and social inclusion in the community environment.
Propose social projects to be funded with Fairbnb.coop
For us a Community project or Social project is an action carried by an accountable local group that has a measurable positive social impact on the community it belongs to. There are no social projects too big or too small for Fairbnb.coop and they can vary from sustainability-focused activities to promoting fair and circular economy at a local level.
In order to get funded community projects will have to satisfy these conditions:
be intended to help residents and/or promote sustainable tourism;

be linked to the same community/location where the guest/funder will travel to;

the recipient of the grants will have to be a legal entity that will provide accountability and inform the platform and the funders on the state of the project.
Submit your project and you will soon be contacted by our staff that will guide you through the onboarding process.
Why Fair?
How it works:
The Host earns the same,
the Guest pays the same
but the benefits are for the whole community.
50% of our platform fee is used to fund a project of your choice for the communities you visit.

This is a what we call
Community Powered Tourism.