OXFAM Italy and Fairbnb.coop together for social inclusion
The Nessuno Escluso (Nobody Excluded) programme, organised by OXFAM Italia, has been integrated among the beneficiary projects of Fairbnb.coop crowdfunding: travellers booking a stay in Italy will be able to contribute to the Community Centers' action for a more inclusive society with less inequality.
HIGHLIGHTS OF THE OXFAM ITALIA-FAIRBNB.COOP PARTNERSHIP
For 80 years, OXFAM has been recognised all over the world for its concrete actions in defence of the dignity and rights of children, young people and adults involved in crises and humanitarian emergencies, as well as for its firm commitment in favour of gender justice and to end poverty by offering development opportunities.
In Italy, OXFAM helps local people and provides a concrete response to the needs of the territories through the Nessuno Escluso programme, which empowers the most vulnerable people and those on the margins of society to re-emerge. The action has three main objectives:
facilitating access to services
combating school drop-out
encouraging the participation of families in public life
As of 2023, OXFAM Italy can also count on the support of the Fairbnb sustainable tourism network: those who book hotels, agritourisms, B&Bs or vacation rentals in Italy on fairbnb.coop will be able to donate half of the platform fees to the Nessuno Escluso programme.
Photo credits: Michele Borzoni/Oxfam Italia
How do the Community Centres of the Nessuno Escluso programme work?
In Italy, OXFAM fosters social inclusion through its Community Centres, safe and welcoming places where all those who are in situations of economic and social fragility can find a listening ear, information, guidance and support in accessing services. The action of the Community Centres includes:
study accompaniment for children and young people
Italian courses
guidance counters for work, vocational courses and local services
parenting support and summer centres for children
socio-cultural, sports and recreational activities and events.
The Community Centres also rely on the valuable support of community facilitators, qualified figures who, thanks to their in-depth knowledge of territories and community needs, are able to promote and accompany the participation and autonomy of the most vulnerable and marginalised people, enhancing their knowledge and skills.
The constant interaction with local communities makes Oxfam Italia's Community Centres real places of active citizenship, participation and sharing.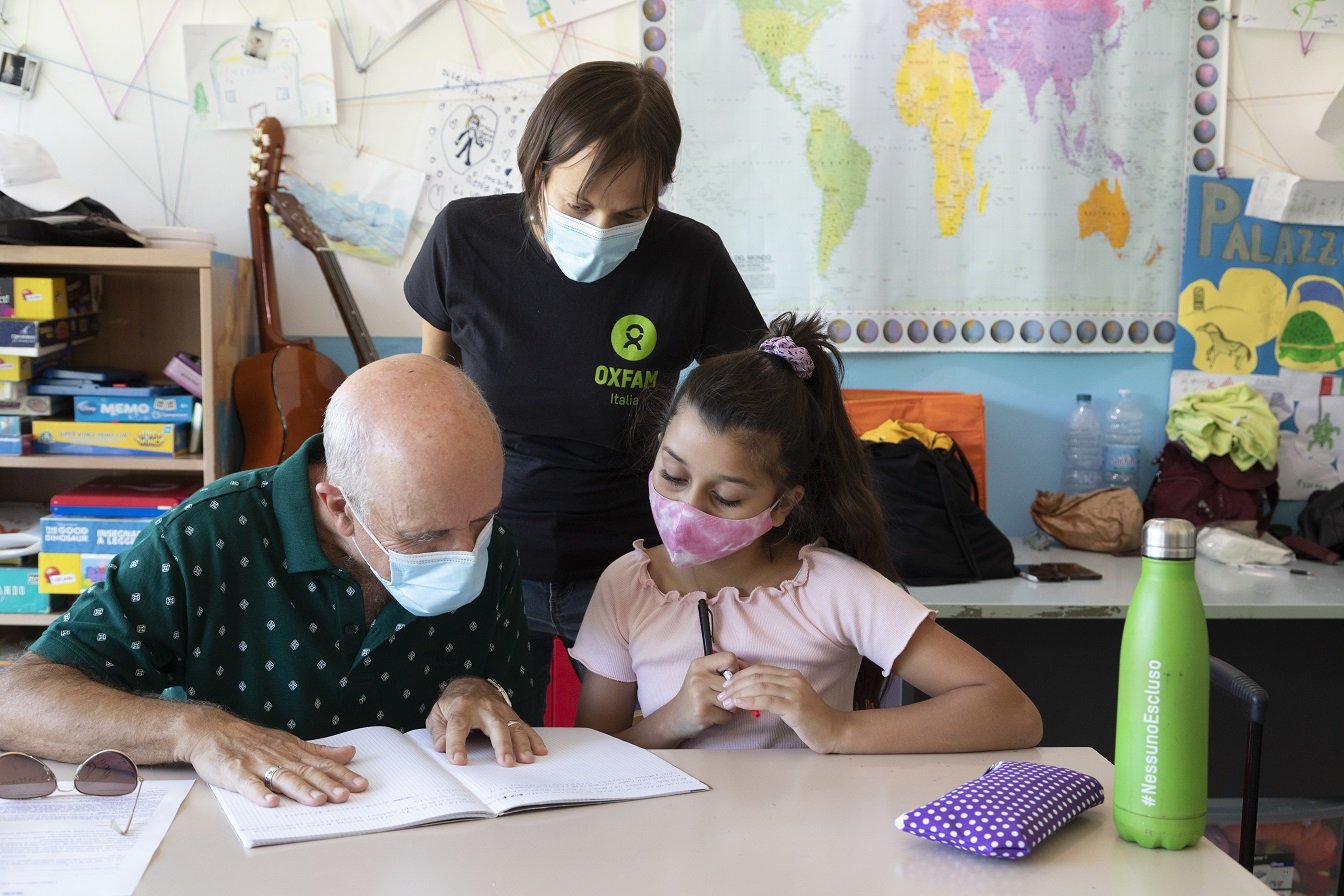 Photo credits: Michele Borzoni/Oxfam Italia
How can you support OXFAM in Italy when planning your holiday?
Lovers of the Italian seas and mountains, art enthusiasts as well as food and wine experts: everyone can provide their support to OXFAM Italy's Nessuno Escluso programme, simply by booking their accommodation on Fairbnb.coop. Like all online platforms, Fairbnb charges a 15% commission on bookings. However, Fairbnb.coop differs from other platforms in the way this commission is used: 50% goes towards funding social projects in the community of the travel destination.
Throughout Europe, Fairbnb.coop supports projects promoted by local communities and aimed at environmental, social and economic sustainability. In Italy, where there is not yet a Local Node of Fairbnb Network, this subsidy can be donated, at the traveller's choice, to Legambiente's Save the Queen campaign or to OXFAM Italia's "Nessuno Escluso" programme.
Of the approximately 750 accommodation listings in Italy already published on Fairbnb.coop, almost 500 (those not yet linked to local community projects) will go towards crowdfunding for the Nessuno Escluso programme.
Photo credits: Michele Borzoni/Oxfam Italia
Why Fair?
How it works:
The Host earns the same,
the Guest pays the same
but the benefits are for the whole community.
50% of our platform fee is used to fund a project of your choice for the communities you visit.

This is a what we call
Community Powered Tourism.