Fairbnb.coop New Year's resolutions
We have a dream! Travel will soon be one of the most enriching experiences on earth again, capable to overcome borders, broaden horizons, widen eyes and help make the world a better place. Help us make our New Year's resolutions come true: book your next holidays on Fairbnb.coop or bring our sustainable tourism model to your place!
Our New Year's resolutions list reflects our underlying optimism. After all, only a team of optimists could dream to turn tourism from an almost entirely extractive industry to a real opportunity for all the communities involved by it.
We also dream that soon we can return to travel, in conditions of safety for all, guests and hosts. Moreover, we dream that future holidays will be an enriching opportunity for both travellers and the communities they visit.
It is for this reason that our twelve new year resolutions, one a month, include both the desire to promote unique travel experiences, and the desire to support the social projects proposed by local communities.
The last point on our New Year's resolutions list is up to you: help us bring our sustainable tourism model to your place!
– To make tourism a resource rather than a burden for communities
At Fairbnb.coop, we donate 50% of our platform fee to local projects: by booking a holiday home or a bed and breakfast with us you can positively impact your next destination, by funding a social project of your choice in the community you will visit.
– To assist the homeless people in Barcelona
You can enjoy your holiday in Barcelona without worries:
Arrels Fundació
, the N.G.O. we support here, will take care of the people in conditions of greater discomfort. Since 1987, Arrels looks after the more than 4.200 homeless who live in the Catalan metropolis, helping them to live a better, more independent life.
– To distribute food surpluses to poor families in Porto
By booking a holiday home in Porto with Fairbnb.coop you will fund Re-food Foz do Douro, an independent community movement, 100% voluntary, led by citizens, whose purpose is to recover edible but no more saleable food from commercial circuits, and to distribute it for free to local families in difficult conditions.
Help this movement delivering its mission: eliminate food waste and end hunger!
To promote social integration in Valencia
With Fairbnb.coop you have the opportunity to experience Valencia in a sustainable and fair way by supporting the local community. By booking a room or apartment here, you can contribute to the financing of the activities of Orriols Convive, a community project that encourage citizen participation and mutual cooperation between people and social organizations in the Orriols neighbourhood.
To help residents to continue living in Venice
Venice is not only a must see tourist destination but is still a living city, even though the local population is experiencing a rapid decline. You can
help Venetians to counter the negative effects of over tourism
by supporting the
Squeri San Isepo
project, which aims to bring a Squero, the traditional Venetian shipyards, back to its original shape and make it operational.
"Barca xe casa", a boat is home, as Venetians have said for centuries.
– To foster local economy in Marseille
In Marseille, the oldest French city, you can support the Roue experience, a complementary local currency to the euro circulating in the city as well as in Provence – Alpes du Sud. By converting their euros into Roues, consumers know where their money is going: it is injected into the circuit of the local economy.
The Roue is founded and managed by citizens. So independent!
– To empower immigrant women in Amsterdam
With your booking, in Amsterdam you can support projects like Bloei en Groei, which valorize the work of immigrant women who take care of several food and community gardens, located in the neighbourhoods and districts where they are most needed, mostly in the Southeast of the city.
Sustainability and the interactions between humans and nature form the basis of everything Bloei & Groei does.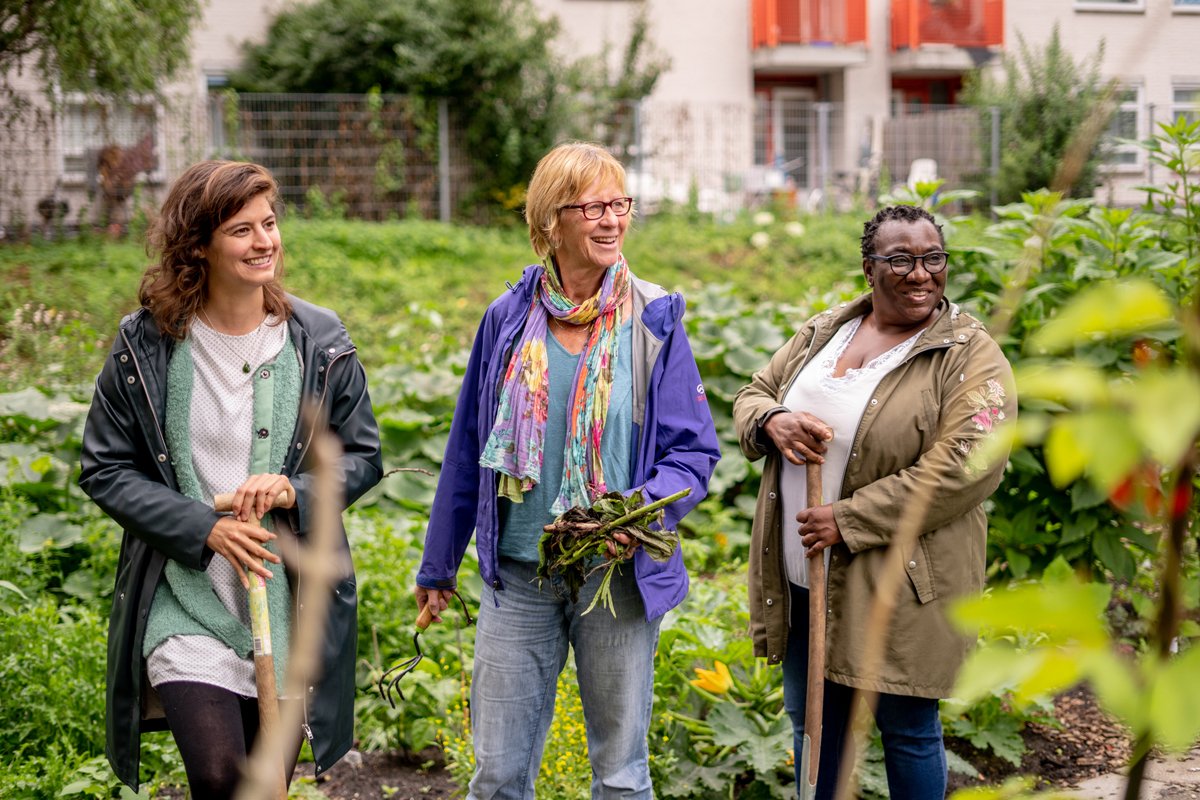 – To encourage intercultural coexistence in Genoa
Travellers who book their holiday lettings in Genoa via Fairbnb.coop may contribute to the activities and projects of the Mediterranean Laboratory, simply called LabMed by the inhabitants of the historic centre: a space of culture, sharing and social assistance that aims to redevelop the neighbourhood by enhancing the social plurality that composes it.
– To fund grassroots initiatives in Granada
Book a holiday in Granada – the capital of Tapas – via Fairbnb.coop and you will fully experience the rich cultures of the city, with also the opportunity to participate together with locals to the Juegos de Placeta, the project we support here: a citizen initiative that recovers and updates traditional outdoor games, so that both adults and children can enjoy them.
– To make nature and tourism accessible to all in Liguria
From the picturesque villages of the hinterland such as Dolceacqua and Finalborgo to the modern seaside resorts such as Sanremo and Pietra Ligure, the Western Riviera in Liguria offers many perfect destinations for a holiday. Book it now to immediately make your contribution to the project of the community-based cooperative Terre di Nava: the creation of a "Common path" surrounded by nature, sustainable and accessible to all because it is also equipped for disabled people.
A trekking wheelchair for accessible tourism
– To bring our sustainable tourism model to your community, together with you
We are searching for committed people to join our vision and help us take what we call Community Powered Tourism anywhere in the world. If you run a lawful short term rental you can become a Fairbnb.coop host, while if you manage or know of a project that could improve the life in your community you can submit it for funding.
You can support our project simply by sharing this article on your social pages, or help us to arrive in your place becoming a Fairbnb.coop Ambassador: we will thus have common New Year's resolutions!
Why Fair?
How it works:
The Host earns the same,
the Guest pays the same
but the benefits are for the whole community.
50% of our platform fee is used to fund a project of your choice for the communities you visit.

This is a what we call
Community Powered Tourism.