In Finale Ligure holiday homes for all seasons and tastes
Finale Ligure is an ideal destination for the summer holidays, but not only. In addition to beautiful sandy beaches, it offers historical attractions, many opportunities for outdoor activities, and a very rich culinary tradition.
If you are looking for a reason that convinces you to rent a holiday home in Finale Ligure, know that you will find several: a historic center considered one of the most beautiful in Italy, a seaside resort that offers a full calendar of events, trails for trekking and mountain biking, unique food and wine specialties and much more.
By consulting the offers of holiday homes in Finale Ligure on Fairbnb.coop you will also discover that you don't need to spend a fortune to stay in this charming seaside village on the Italian Riviera. Rents are in fact modest both in Finalborgo, the charming old town, and in Finalmarina, the lively seaside resort.
Finalborgo, historical center of Finale Ligure
Where to stay in Finalborgo
If you choose one of the holiday homes located in the narrow alleys of Finalborgo you will be surrounded by typical bars and restaurants, as well as elegant 15th century and Renaissance palaces. The well-preserved medieval walls are dominated by the ancient castle of Finalborgo, which contributes a unique charm to the village.
One of these historical residences was converted into a holiday home over ten years ago and is now the Residence Ca' di Nì, managed by our Fair Host Cristina.
The Residence Ca' di Nì offers eight cozy holiday apartments of different sizes and capacities (one-, two-, three- and four-room flats), which have been renovated in an attempt to preserve their historical finishes, character, and flavor. The Ca' di Nì flats are equipped with all modern comforts to ensure you have a dream stay in complete relaxation and make you feel at home.
At the Residence, you can enjoy the ancient terraces overlooking the village, sunbathe on the sun loungers in the magnificent secret garden, use the convenient connections to the coast and the various nearby resorts, or get around with the bicycles provided free of charge.
The terrace overlooking Finalborgo of Residence Ca' di Nì.
Where to stay in Finalmarina
Holiday homes in Finalmarina have the advantage of being close to the long sandy beach and the sea promenade, lined with flower gardens and play areas where your children can enjoy slides and merry-go-rounds. The modern area of the town has in fact a long promenade lined with flower gardens and play areas where your children can have fun with slides and rides. On the seafront, near the Marinai d'Italia pier, a mini-golf course for children and a track for playing marbles and toy cars have also been set up.
There is no shortage of attractions dedicated to adults, such as an outdoor fitness area full of exercise equipment, or numerous bars where you can have an aperitif by the sea.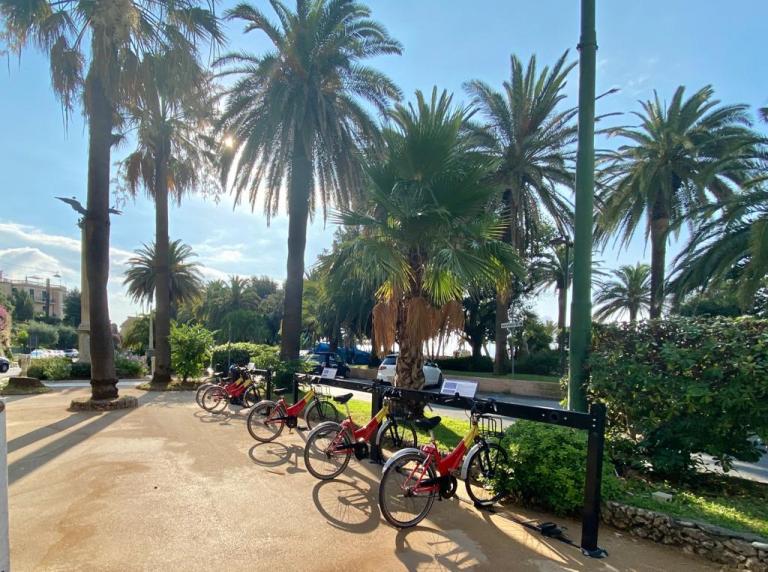 Bike sharing in Finalmarina – Italian Riviera
How to get around in Finale Ligure
To move between Finalmarina and Finalborgo, just a couple of km away, you can use a bike or … a turtle! In fact, on summer evenings you can get on board a special bus, called the
Turtle Express
, which runs approximately every half hour: fun for your children is guaranteed.
To get around Finale Ligure starting from your holiday home, you can also count on an efficient shared bicycle service. After downloading the free Bike-sharing Finale app on your tablet or mobile phone, you can in fact pick up a bike at one of the housing stations, located in Piazza Porta Testa in Finalborgo and next to the Arco Margherita di Spagna in Finalmarina, and return it within 24 hours, even in a station different from the one it has been collected.
Varigotti – Italian Riviera
Merge onto the nature trails to Varigotti and Noli
You will also find a station of the Bike sharing Finale service in Varigotti, a seaside village with original Saracen-style houses located a few kilometers away. Alternatively, from your holiday home you can reach this renowned seaside resort by taking the path that, after crossing the bridge over the Sciusa stream in Finalpia and the Castelletto di San Donato, runs along the beaches and the port of Finale Ligure up to the Torre di Punta Crena: from here you will appreciate an exceptional view.
Continuing your walk in the direction of Noli you will meet the Baia dei Saraceni, one of the largest and most evocative beaches in Liguria, while entering the dense vegetation behind the beach you will reach the Church of San Lorenzo, built in the Middle Ages in a panoramic position close to the cliff of Capo Noli.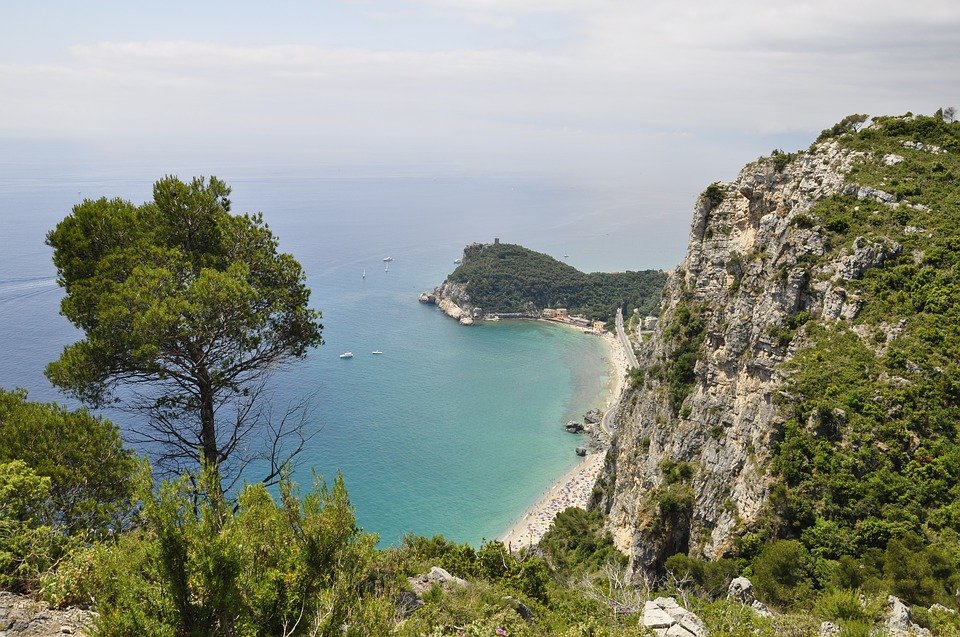 Things to do in Finale Ligure
Finale Ligure is the ideal base for active holidays, thanks to the limestone rocks characterized by holes and holds, which make them perfect for free climbing, and to an extensive network of paths for trekking and mountain bike that touch caves inhabited since prehistoric times.
Visit the Archaeological Museum of Finale, housed in the monumental complex of Santa Caterina, to discover the rich history of this area through precious finds and scenic settings. The museum also offers educational workshops on experimental archaeology dedicated to children and the Archeotrekking Finale initiative, which includes guided tours and speleological explorations to the caves and other archaeological sites around the village.
What to eat in Finale Ligure
All holiday lettings on Fairbnb.coop have equipped kitchens that allow you to prepare meals independently: they will be the perfect base to enjoy Finale Ligure. The market held every Thursday morning on the
Lungomare Migliorini
is an unmissable opportunity to stock up on fresh local products, but every day you can count on the numerous
local food shops
, distributed both in Finalmarina and Finalborgo, to bring the food and wine specialties of the Finale area to the table of your holiday home.
In addition to all the typical dishes of Ligurian cuisine, such as the famous pesto sauce and the many recipes based on fresh fish, in Finale Ligure you can taste the fugassin, fried scones with potatoes, and the chifferi, almond sweets that you will also find in the chocolate variant.
At aperitif time, try the chinotto, a typical drink with a slightly bitter taste based on the homonymous citrus fruit, or delicate white DOC wines such as Lumassina, produced in nearby Feglino, Vermentino and Pigato.
Nature in Liguria is accessible to everyone
By booking your stay in the western Italian Riviera with Fairbnb.coop you can support the initiative of the Community-based Cooperative Terre di Nava for the creation of a "Common path" surrounded by nature, sustainable and accessible to all because it is also equipped for disabled people.
The path will consist of a circular route, which can be easily covered in about an hour; during the journey, it will be possible to immerse yourself in the colors and scents of lavender, collect it and learn about its history, discover plants and aromas.
This experience can also be lived by people who are often excluded from direct contact with nature and the feeling of well-being and freedom that this can give: a part of the donations will in fact be destined for the purchase of a trekking wheelchair and for the creation of information panels in Braille.
Why Fair?
How it works:
The Host earns the same,
the Guest pays the same
but the benefits are for the whole community.
50% of our platform fee is used to fund a project of your choice for the communities you visit.

This is a what we call
Community Powered Tourism.