Fairbnb.coop Digest #7 – Fresh news from our coop ecosystem
From the last in-person meetings to the new partnerships worldwide, in our Digest for September-October 2021 you can get a transparent snapshot of Fairbnb.coop's progress, with lots of fresh news from the different areas in which our cooperative is organized: we are making the change.
New energies and new opportunities for our community of Local Ambassadors
Collective knowledge grows when shared: for this reason, we have decided to double and make more efficient and better organized the opportunities for our Local Ambassadors to meet, so that they can exchange experiences and best practices in order to grow better and faster together. The first opportunity to meet, finally in presence, has been the 3 days of meetings that we organized in Bologna in mid-October, on the occasion of the general assembly of our cooperative.
More than 40 members, workers, and representatives of the Local Nodes of the platform, from Portugal, Spain, France, Belgium, Poland, Austria, Slovenia, and Croatia, as well as from various regions of Italy, participated and contributed to an intense weekend of sharing. The Fairbnb.coop project is now more solid, in terms of team spirit and humanity, the true cornerstones of an initiative that has cooperation and communities at its heart and as drivers.
The sustainable tourism of Fairbnb.coop, from theory to practice.
One of the big news of fall 2021 is that starting this season our sustainable tourism model will impact also whole regions and countries allowing us to expand our model also to scattered Hosts in smaller communities.
The first country to be involved in this process is Italy, where we already have more than 260 published listings, but soon we will be active in France, thanks to a cooperative built by our two partners Volumes (Paris) and Oiseux de Passage (Marseille), and then in Spain, thanks to the partnership with Refugees Welcome. More countries will join the path in the following months.
From Community Powered Tourism to communities empowered by tourism
Fairbnb.coop is increasingly becoming a recognized alternative around the planet: in recent weeks Chinese newspapers such as South China Morning Post and Travel Daily have talked about our Community-Powered Tourism model, as well as international tourism magazines such as The Lonely Planet, which recommends using our platform when visiting Italy!
In Italy, starting from a deep sharing of the values of solidarity, social sustainability, and circular economy, Fairbnb.coop and the association Legambiente have started a partnership whereby our platform is committed to support the crowdfunding campaign Alleva la speranza+: for every booking we receive in Italy, in locations where there are not yet active Local Nodes with projects on the ground, 50% of our commissions is donated to the projects of some small farms affected in recent years by earthquakes… read our blogs in the Content Digest to learn more!
Courses and races
Other collaborations that have come to life are those with The RegenLab for travel and with Venice Marathon. The first one took the form of an online course held by experts in regenerative practices for the benefit and addressed to our community, with the aim of applying them concretely in the dynamics of tourism. The Venice Marathon was run on October 24 and our community benefited from a special reduction in the race registration fee, while all runners were invited to rest at the end of the race in the accommodations on Fairbnb.coop, to support projects in Venice.
The Fairbnb.coop Team
Every month we publish the latest news from our organizational areas. Let us remind you that all our managers are available for questions, so if you need some details or if you want to discuss some opportunities with them please don't hold back: mail to info@fairbnb.coop.
Enjoy your read, let us know your thoughts and thank you for your support.
Please keep following us, and remember to book your next vacation rentals on Fairbnb.coop! 
Fresh news from the Marketing Area – Lead : Emanuele Dal Carlo
/ Isabel Duregger
New Collaboration with Refugees Welcome in Spain
Attention: Spoiler!
We have finally closed the agreement with our new National Project in Spain: Refugees Welcome which allows us to support yet another great social cause and also bring many new scattered hosts from Spain to our Platform. Stay tuned to find out more about our collaboration by following our updates on Social Media.
About our new national Project: Refugees Welcome Spain firmly believes that refugees should not be stigmatized and excluded by being housed in overcrowded accommodation. Instead, we should offer them a warm welcome. Refugees Welcome Spain believes that sharing a home gives rise to an exceptional space for enrichment with advantages for both parties: the displaced people/ refugees can live in suitable homes, improve their language, get to know the local culture closely and create networks and adapt to the new environment more easily. For those who open their houses, it offers a new experience, cultural exchange, the possibility of learning languages and, of course, the opportunity to lend a hand personally.

Christmas is coming
It's the time of the year that we get together, take out the Christmas decoration, fill up the cookie-jar and dust off the bottle of Eggnog. And for Fairbnb.coop it is time to start our Christmas Campaign.
Without giving too much away, we can already reveal that our campaign will be linked to our summer campaign. We are inviting people to travel with their values while giving our dedicated FAIR hosts the opportunity to be in the spotlight.
You don't have to be Santa Clause to bring joy to your community!
We would like to highlight the great and supportive gesture of our host in Paris, Sophie, who made a very brave and great move by taking her listing off other platforms to offer our FAIR guests the opportunity to experience beautiful holidays in charming Paris during the Christmas season, while giving back to the local community by supporting the social project in Paris: Thot – Transmettre un Horizon à Tous. Thot provides refugees and asylum seekers who have had little or no schooling in their country with access to effective, ambitious and inclusive French lessons leading to DILF and DELF diplomas that are valid for life, anywhere in the world.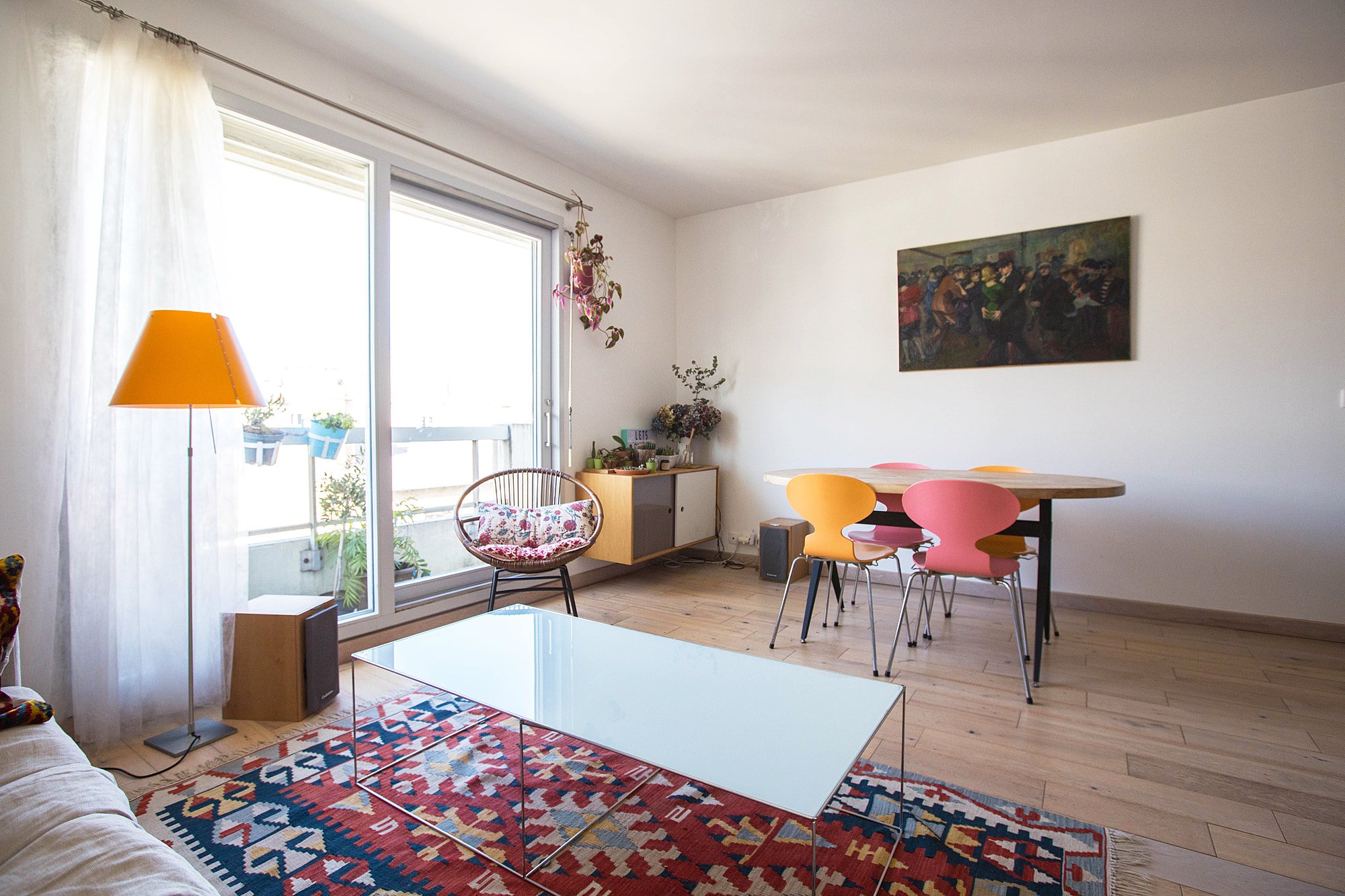 Sophie's holiday home in Paris
Are you planning a trip to Paris or know somebody who is planning to discover the charms of Paris in winter? Her apartment will be available from December 18th to the 25th and from December 27th to January 2nd (3 nights minimum). Let's help her to find FAIR Guests! Check out the lovely home of Sophie or share it with your fellow travelers.
To learn more about Sophie and what to do in Paris during the Christmas season, stay tuned and follow our December Christmas campaign on our social channels!
General Direction – Lead: Alessandro Rocchi
The New Investment Plan is real (DG – Legal – Financial)
Sefea Impact, Coopfond and Fondo Sviluppo, joined us and funded our business plan.
It took one year for the negotiation and due diligence process to be addressed and fulfilled. Our "start-up" had to face a strong path to upgrade many internal standards to allow high-level investors to join but the good news is that not only do they fund us, they also believe in us. In full pandemic period, having found institutional investors ready to put 750.000,00 Euros to finance a tourist services web platform says something more.
We are not only a tourist services platform, we are more. Values are our fundamental note and the implicit concept inside our business plan is that we should match such values and services to give our users the perspective to #bethechange.
So, even if the due diligence process and the fulfillments required by our new status of joint-stock cooperative company will increase the effort of our team (enhancing accountability, transparency, efficiency) we are proud to have won this challenge and to have accepted the future ones.
The Cooperative Meeting in Bologna
Three days event took place in Bologna between the 15th and the 17th of October. We have worked so much in these months, thinking about the best way to join our community, members, workers, volunteers, partners, and investors. The idea to have a community-building occasion also to make the point on our corporate identity, our values, who we are, and posing the basis for the fair environment has been realized through a one-day facilitated session thanks to Melania Bigi (Tara Facilitazioni). This happening represented a starting point for us, not only to find new fuel to address platform cooperativism and fair values but also to renew the internal process dedicated to collecting the whole community's feelings, ideas, and principles in addressing fairbnb.coop.
Financial statements approved and operational plan process
The General Meeting of Fair BnB Network held on October 27, approved the financial statements for the year 2020-2021. This process has been particular because this time it has worked in parallel with the new investors' due diligence path, which implied understanding our financials in the light of the covenants necessary to address the investors' requirement.
As soon as the investors' due diligence was completed, the general director offices started the process to let the coop managers prepare the operative plans according to the new financial availabilities. This is a path that will see the new Board of Directors in charge, after the last members' general meeting, giving its strategic headlines and allowing the work team to define goals and KPI to per achieved. It's enthusiastic to lead this process after Bologna meeting also thanks to the new people that joined the workforce of fairbnb.coop, some of them coming from the ambassador's side. This confirms how relevant it could be for us to create a special synergy with our representatives worldwide. December will see the whole process completed and new operational plans approved.
Fair Lab
The Fair Lab Team continued to participate in the Focus Group with sustainable consumers and Banca Etica. The market research helped understand how to attract more sustainable consumers through marketing and community empowering initiatives. The final report of this experience will be made available to the coordination board for enhancing our market strategies.
The Fair Lab Team met with the platform economy researcher at the Rotterdam School of Management, Ms. Jovana Karanović, to discuss the challenges and future expectations of Fair Bnb. Professor Karanović has recently published a book 'Platforms Act – Workers React' which includes the example of Fair Bnb.
The Fair Lab Team and the Coop. Ecosystem Team held two important meetings with the newly elected representatives of the Municipality of Bologna (Tourism Office and Digital Innovation Office) to discuss the implementation of the EU Commission's Ledger Project and cooperation with Fair Bnb and the Fair Lab in Bologna. A meeting on tourism and accessibility will soon be organized and the Fair Lab Team will be invited.
Fresh news from Community – Lead: Domenico Di Siena
The team grows
In the last two months, the team has been enriched by three new arrivals. They are Eder Guerra and Julia Marti from Spain and Dunja Pejic from Croatia. With them, we are working on improving the onboarding, learning and activation process of our ambassadors, with a collective activation model and the definition of a new Care & Support area.
New model of collective activation
In September we started a transition phase that will lead us to have a much more efficient model of activation and follow-up of ambassadors, and above all to take advantage of the best energies, experiences and knowledge of all the ambassadors, promoting a greater sense of belonging and collaboration. We call this model of activation "collective" because it is based on many more dynamics of sharing and co-learning, as well as shared development practices with the monitoring of the objectives and results achieved by each one on a dashboard accessible to all.
New calendar for Ambassadors Calls
Finally, after the summer break, the Ambassadors Calls are back, with many new features in line with the desire to make them increasingly interesting and useful. They are now structured according to three different formats, one more for training, one more for tutoring and another dedicated more to updates on the latest developments in fairbnb.coop. Meetings have become bi-weekly and are recorded so that they can be included as content in a learning program that soon will be made available to all those interested in becoming Ambassadors.
Work started on building a French cooperative
Thanks to the work, will and investment of the two partners active in France, Oiseux de Passage and Volumes, who respectively enabled us to activate Marseille and Paris, the construction of a French cooperative has begun. A meeting of the first stakeholders was held on Monday 27 September. This process will also benefit from the support of the Welcome CIty Lab, the incubation program specializing in tourism promoted by the City of Paris.
This new entity will help to speed up activation by intercepting the opportunities offered by the cultural and economic context of this important country. It will be intended primarily as a support structure for existing nodes in France and those to come.
Fresh news from the Coop Ecosystem
Team: Jonathan Reyes (lead), Federico Piovesan (partnerships office)
# Projects
Creating a Coop Credentials to foster interoperability with other coops
Together with Resonate and Pavilion, we are working on CoopCreds, the creation of a common cooperative membership implemented through verifiable credentials solutions within the EU-funded Essif-lab where we are one of the selected projects.
A shared cooperative membership will allow us to cross-sell our services with other cooperatives, mutualize the KYC costs and foster the synergies and user acquisition with other cooperatives across different industries.
Visit https://coopcreds.com to know more and join the project.
LEDGER – Technologies for distributed governance
Last March we were proud to be among the projects selected to participate in the EU Next Generation Internet LEDGER program, an EU-funded project to empower people to solve problems using decentralized technologies.
Thanks to LEDGERS's partners and mentors @FundingBox @Bluemorpho @Dyne, we started integrating new features that will support our local communities and that will enable collaboration with local authorities to promote fairness and sustainability throughout our platform. We are still in the early stages of this new development, but the future looks promising and are excited to share more details in the coming months!
# National operations
Our presence is little by little growing in some countries thanks to the work of our partners and ambassadors, as well as the commitment of our hosts and users. As our community grows it makes more sense to foster collaboration at country level, delegate operations, ensure proper coordination and create the conditions to consolidate our activities country by country keeping the community-powered approach.
To do so we are currently working together with the Community department to plan the organization and launch of the first National Nodes together with our partners and ambassadors in the first pilot countries in Europe. Keep up to date and don't hesitate to contact us if you are interested in supporting our partners and ambassadors to promote Fairbnb.coop in your country!
# Events
Solidarity Tourism in Europe
In the last week of October, we have been invited to participate in an international meeting in Cremona, Italy, on the theme of #SolidarityTourism, attended by several organizations in the sector, including Ripess Europe, Associação Animar, ATES (Association pour le Tourisme Equitable et Solidaire), KOAN Consulting.
In the workshop on "Community-based tourism", we had the opportunity to illustrate how #FairbnbCoop's Community powered tourism model works and the impact that, through the projects we support, it can have in achieving the 17 #SDGs on a local scale. We are confident that this was the moment to initiate fruitful synergies to #bethechange together.
Fresh news from the Product Area: – Lead : Jan De Bock
Recent changes to the booking platforms
In the last 2 months, we worked on several parts of our booking platform. Some of the changes are already visible, some will be visible soon, others are improvements to our back-office,
Changes to short term rental booking platform
Italian, French and Dutch interfaces are now available for our short term rental booking platform;
Calendar UI is much improved and less based on colors only;
Date-picker is made much easier and reflects now also the availability of the listing;
Once your listing is published we are not automatically changing the status anymore. Instead, we will check in the background and only contact you in case we have questions about the changes;
Previously links in emails were not always working. This is now fixed;
You can now upload PDF files and link (youtube) video's to your listing;
We changed prices in calendars:

when the guests look at a calendar, they see the prices including the fees;
when the hosts look to their own calendar, they will see their own prices set;

Several UI fixes were implemented;
After the release of calendar sync, we observed that about 30% of the published listings are synchronized with external calendars. 
Back-office for the local ambassador
The local ambassador will soon have a tool to check and certify your listings;
This Faircert is the first step in a bigger program to become very transparent with different stakeholders, watch out for more news on this soon !
The new tool allows our local ambassador teams to act more swiftly on your requests and follow up closely.
New booking platform coming soon
Your product management team is working hard to release the new booking platform for experiences;
This is expected to become live next month! Watch out for further communication.
# Upcoming changes to the booking platforms
We are reviewing and improving all parts of our platform to make it more user-friendly and faster. We will also introduce more open-source elements into our solution. As an example, we will move away from Google Maps and start using Open Street Maps. This is not only cheaper, but it also gives more accurate, up-to-date maps.
# Call to action: clear your browser-cache
Recently we discovered that some browsers are caching more than we were expecting. Due to this some of our changes are not yet visible to you. Hence we ask you to clean the cache of your browser. This is different from browser to browser. If you want to know what to do, you can check here.
WORLD TOURISM DAY 2021: SUSTAINABLE ALTERNATIVES
On September 27th we have celebrated World Tourism Day, an important date to raise awareness for the impact tourism has on our world and how we can turn it into a power of positive change. In our blog you can read a few tips to find sustainable alternatives for your next vacation.
€1 MILLION INVESTMENTS FOR FAIRBNB.COOP
During the annual assembly of Fair Bnb Network cooperative, a further step has been added to the fundraising campaign launched by fairbnb.coop a year ago: thanks to the support provided by several major institutional investors, we can expand social innovation and accelerate the growth of our Community Powered Tourism model.
BREEDING HOPE+, A CAMPAIGN TO HELP SMALL FARMS IN ITALY

Since 5 years, small cooperatives and farms in the Apennine areas of Central Italy fight against the consequences of the earthquakes that occurred between the summer of 2016 and the winter of 2017. In these areas of extraordinary beauty, several farmers and breeders were able to maintain sustainable production, often offering accommodation in their farmhouses and B&Bs: they literally keep alive, with tenacity and passion, entire communities otherwise destined to disappear due to depopulation. The campaign "Breeding hope +" will help some of them: in our blog, we introduce you to their stories.
BEACH HOLIDAYS IN OCTOBER? IN SOUTH ITALY YOU CAN!

The campaign Breeding Hope+ has aroused the solidarity support of dozens of hosts throughout Italy, from vacation homes and B&Bs on the shores of the Mediterranean in Sardinia and Sicily to mountain huts in the Alps. This gives us the opportunity to introduce new destinations and offer vacations in every season!
TRAVEL TO MALAGA: ENJOY THE LOCAL CHARM IN A SUSTAINABLE WAY

New destinations for Fairbnb.coop also in Spain, such as the wonderful Malaga! Together with castles, museums, gardens and more classical things to see in Malaga, our sustainable tourism model will be the key to experience the art, cuisine and culture of the region as a local would.
Why Fair?
How it works:
The Host earns the same,
the Guest pays the same
but the benefits are for the whole community.
50% of our platform fee is used to fund a project of your choice for the communities you visit.

This is a what we call
Community Powered Tourism.