---
The fairbn.coop project has accelerated a lot in recent months. Many of the things that are happening are not yet visible to the community.
We asked Indre to tell us something about the development team, how the work is organized with a team that works from different cities around the world and how the Agile methodology is applied.
---
Faribnb: Indre, can you tell us what is your personal and work path? How did you get to become co-founder and fairbnb product owner?

---
Indre: It was long and interesting journey that started after I decided to change career direction from communication to information technology.
In 2015, I left my home country Lithuania and moved to the Netherlands to pursue Master's in Information studies: Human centered multimedia in University of Amsterdam.
I was writing my Master's thesis on how to design for trust in accommodation sharing platforms, with special focus on privacy and blockchain tech.

As an intern, I was writing the thesis in a very inspirational environment – "Waag Society", which is Dutch institute for Arts, Science and Technology. Focusing on user-centric approach, I organized an event and ended up meeting Sito Veracruz (current co-founder of fairbnb).
It went without words that we should continue this venture.

We organized multiple meetups asking local communities in what is the fairbnb they vision. Soon we connected with our fellows from Italy and Spain.

For a few years, I was still working for other successful companies where I transformed myself into a product manager, became a certified Product owner (CSPO). Soon I realised this is a moment to fulfill the dream of Fairbnb, so I co-founded it and became a product owner.

---
Fairbnb: What exactly does a product owner do?

---
Product owner, or product manager as it's mostly defined nowadays, is like an intermediary between the organization and users of the product. Product managers are there to observe, capture, translate and manage all the social requirements, ideas, visions that come from the users and the stakeholders and translate it into technical solutions.
The best tool for that is a product backlog, which is the list of features to be designed and developed in timely manner.
For this we use Agile/Scrum methods and divide our road map into sprints.
Product manager also needs to make sure everyone in the organization is updated about the development and that every opinion is taken into consideration, but also to own the product vision and set up priorities.

I was lucky to be in the project from the very start, because this helped a lot in observing and understanding each co-founder's vision.

---
Fairbnb: How is the fairbnb development team currently formed?

---
The development team is formed by UX/UI designers, developers, head of IT (CTO) and a product owner.
However, we also have regular people from the product team who join our meetings, because these groups are deeply interconnected and have to be aligned.

Faribnb: How do you relate to the team? How do you work while not in the same city?

Our development team is currently spread out across Italy, Spain and Lithuania. Most of us work remotely and for that we use collaborative tools, such as Slack or task management tools, such as Trello.
We have regular meetings and our main approach is to make things as simple as possible.
Working with remote teams is becoming more & more of a big thing in the world, especially this counts for the development teams. So far it has been working great! I guess a reason for that could be that we all are tech savvy and we know how to make use the best of the tools that we have available.

---
Fairbnb: How did Agile change the way you work in a team?

---
I like Agile approach, because it structures the work nicely, but also it does not create tension for the final outcome.
Agile sees everything as a process that is divided in short (1-2 weeks) periods of time and each of that period is valuable and important.
Also Agile let's regularly check and review what we do and how we do it and every iteration becomes an improvement.

Most important, Agile approach is great in giving and getting feedback to and from our community and for fairbnb, as a cooperative, this is very important.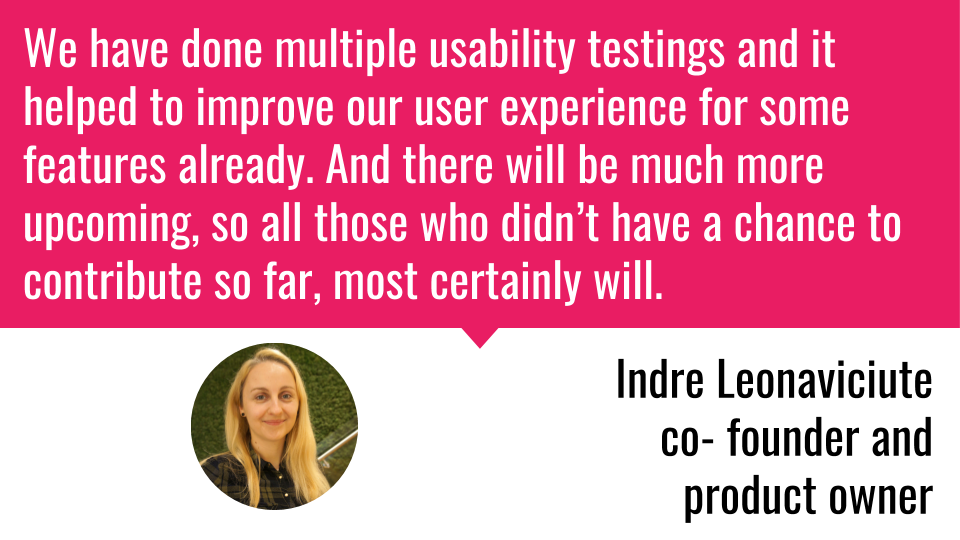 ---
Fairbnb: Recently you asked the social.fairbnb community to participate in the first tests to create the best user experience: what kind of response did you receive?

---
We have received a huge interest for this request and we are extremely happy and thankful for it!
We have a very enthusiastic and active community and that is something many companies dream of.
We have done multiple usability testings and it helped to improve our user experience for some features already.
And there will be much more upcoming, so all those who didn't have a chance to contribute so far, most certainly will.

---
Fairbnb: At what point is the platform development right now?
---
The development team is having a very busy period right now as both the design and the coding of the platform has already started.
We are aiming to launch our first alpha in May. 
---
Fairbnb (looking for the right words to touch a very delicate subject): At this moment you are the first and only woman co-owner of fairbnb : we can not say why, but it happened. What can we say to women who read us to convince them to participate in this fantastic project?

---
Fairbnb is a part of the new platform economy world we are creating together. It is more than a platform for booking accommodation and funding local projects. It's a community that has a chance to change or contribute to something they always dreamed about.
For me, the feminine is the creation, peace, compassion and caring and that is something very important for fairbnb to thrive. All women and men who share our visions are welcome to join us in this fantastic project!

---
Linkedin | Instagram | Facebook | Twitter | social.fairbnb | co-owners
---
---
We hope that the partnership with fairbnb.coop will enable us to carry on the second edition.



Linda Serra CEO of Work Wide Women, Bologna,
Social projects: Foreign Sisters
Read more: https://fairbnb.coop/2019/03/05/social-projects-bologna-foreign-sisters/
---
L