Christmas in Paris: local tips from our FAIR Host Sophie
If you plan to travel this winter season make sure that you #travelwithyourvalues! For your holidays in Paris, be inspired by our Host Sophie and experience the unique charm of the City of Lights through the eyes of a local. You'll discover that, in addition to the Eiffel Tower and the Louvre, there are many places that could make your 2023 start off on the "fair" foot.
Spending Christmas time in a foreign country can be an exciting experience. But discovering the place through the eyes of a local will most certainly become an unforgettable memory. During this winter season we're once again encouraging you to travel with your values. To help you make the right choices we are excited to introduce you to some of our FAIR Hosts and to inspire your next fair travel with local insights from our active destinations. Our first trip goes to Paris, which during Christmas enchants its visitors with its unique "je ne sais quoi".
No matter how often you return to this beautiful place, it will always remain the city of love with its picturesque alleys, the charm of century-old buildings, and the time-less creative spirit that you can feel in every corner of the city. There is always something to discover no matter where you go, which is why there is absolutely no need to stick to the touristic parts. Of course, you don't want to miss the Eiffel Tower but spending the morning at a local food market will show you much more from the city than starring at the Mona Lisa together with 400 other tourists. Without a doubt, it is the perfect place to just get lost and stumble from one amazing quarter to the next one.
To get the best tips for this time of year, we chatted with our FAIR host Sophie. Read our interview with her to find out what to do in Paris at Christmas, what inspired Sophie to become a Host of FAIR and what Christmas miracle she wishes for tourism in the City of Lights. Then book your vacation rental in Paris on Fairbnb.coop: we donate half of our platform fee to the project Thot – Transmettre un Horizon à Tous, a French graduate school for asylum seekers and refugees.
Sophie, can you tell us about your neighbourhood and what is typical of your area?
Charonne is a modest neighbourhood that is not too expansive. There are very good restaurants and bars as well as small organic stores nearby that I like, and which are lovely decorated during Christmas. But what I absolutely adore in my neighbourhood, are the two markets: the market on Place de la Réunion and the market on Boulevard de Charonne. It's different than the touristic parts of Paris because you will discover the real side of the city. Talk to the traders, take a coffee nearby or buy some delicious local products and prepare yourself a lovely Brunch in my apartment. For me, it is something that must be discovered.
Do you have any ideas, tips or tricks for travellers who spend Christmas in Paris?
During Christmas periods, you can find circuses that are in the city temporarily. So, if you feel like going to the circus, now is the season to come. And then there are of course the windows of the department stores which must absolutely be seen. The shop windows of Galeries Lafayette and Printemps on the Grands Boulevards are places also locals love to see during Christmas time. Hmmm… thinking about it… Do you think guests would be happy if I decorated the apartment? 
Sophie, do you have any advice on places and activities to avoid during Christmas in Paris?
In fact, people who come to Paris for the first time want to do tourist activities such as visiting the Eiffel Tower or going to the Louvre. I guess I would advise people to be aware when and how they should visit such places. The last exhibition at the Louis Vuitton Foundation, for example, I would tell my guests to go there by metro, be careful not to go during peak hours, or suggest them to visit museums which are free on the first Sunday of the month.
Which is your favourite place in Paris?
I love the Ile Saint Louis, because you really feel in the heart of Paris which there is the Seine everywhere, because you have a view of the Ile de la Cité and Notre Dame de Paris, amputated now. In addition, now that we are much more pedestrian, we can walk on the bank tracks, so this is one of my favourite places. You really feel in the heart of Paris.
Sophie, why did you choose to become a "fair" host?
Because it's been a long time that I waited for the creation of an alternative. I registered on one of the giant platforms two years ago, when home sharing became a main income for me. Since I have a house in
Burgundy
, and therefore I can alternate between my two accommodations, this allows me to rent one or the other. However, even if it works well and it is practical, all the GAFA of which it is ultimately, dissatisfied me in their capital operation.
I was actually waiting for a "fair" equivalent to exist so that I could join the movement towards a more sustainable and regenerative tourism, and I am delighted to be among the first pioneers in France.
What does it mean for you to be a fair host?
I think one of the factors is to have a fair price. Because I have the impression that I am not too expensive to rent my apartment, obviously, it is supply and demand, but I consider, for example, that 100 euros/night is a fair price for an apartment where 4 people can stay. This means the price of a youth hostel for everyone while being able to enjoy a really comfortable apartment with a kitchen and a private bathroom. Then, of course, it is about trusting each other. I leave what is mine, that is to say, my stuff, my books and I trust people to take care of it and not damage my apartment. I'm even willing to leave my adorable Siberian cat!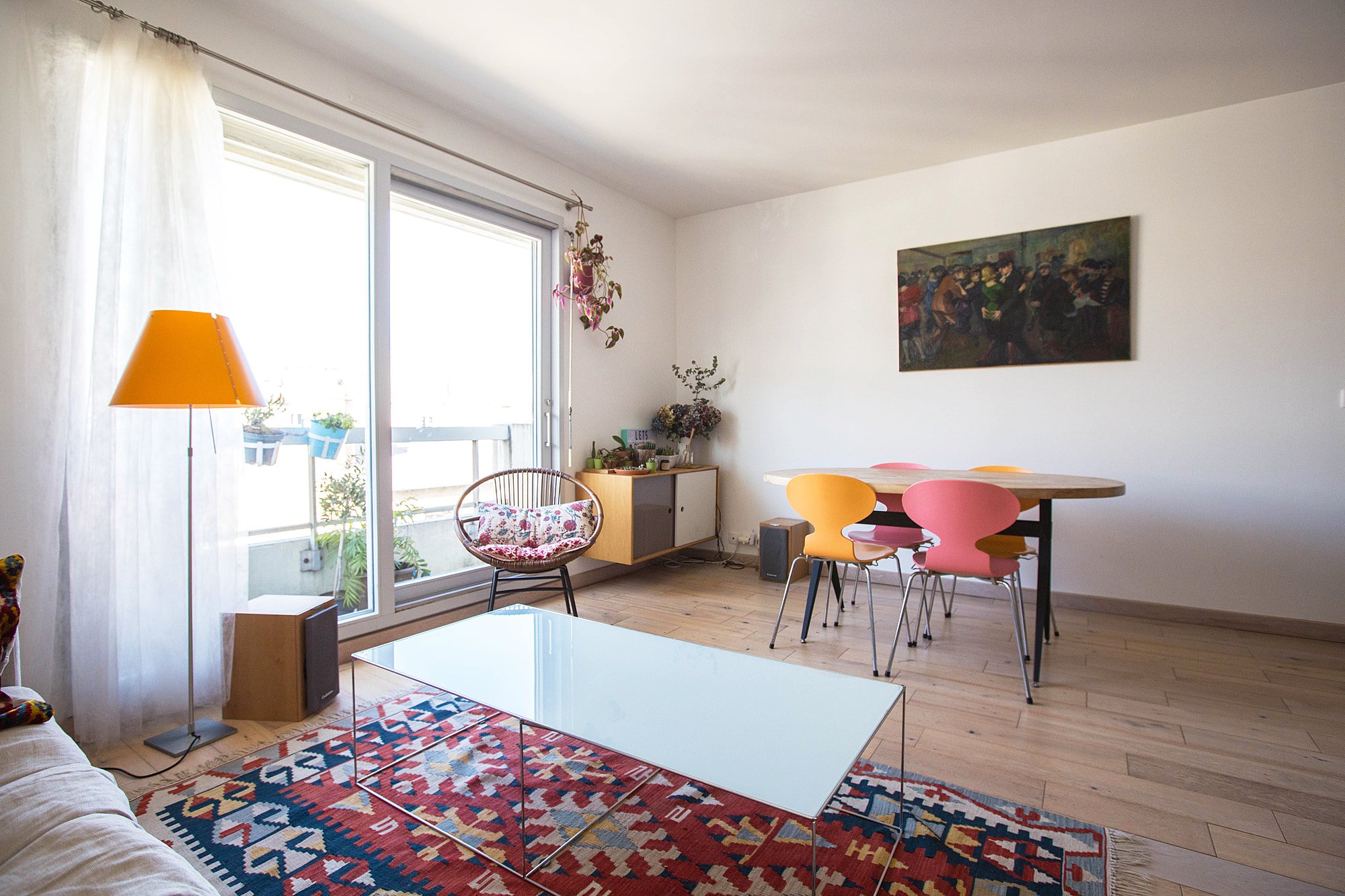 Sophie's holiday home in Paris
What makes Fairbnb.coop sustainable for Paris?
The big problem is when people buy real estate just to speculate and then drive-up prices. That's not what I want at all. I just rent my apartment a few weeks a year when I'm not there. Besides that, I try to give the people who live with me all the information to feel good in my apartment – I want them to feel right at home which is kind of the idea of home-sharing before it turned into a business. I also like that with Fairbnb.coop I can support local initiatives and I'm sure there are plenty of associations that will be delighted to receive help. And what's also good is that each host can choose which project to reverse.
Sophie, what does "fair" travel mean to you?
As a traveller, it is precisely to live like the people there, that is to say: not to behave like a reckless tourist who changes the places every day, who leaves places in a mess, which creates waste, but it is trying to travel less but for longer and to blend in with the local population to live like them and not to disturb them. I also published a book called Reinventing Tourism – Saving our vacations without destroying the world, by Rémy Knafou, which tells about how cities have fought against the giant platforms and how to regulate tourism.
What is the impact of tourism in Paris from a local's perspective?
On the one hand, there are tourists who stay for a week for the first time and want to see everything. On the other hand, there are people who only come for two days and then there are locals who feel the need to enjoy the place where they live. So it's difficult to adapt to everyone, to everyone's budget, and not become a museum city waiting only for billionaires. For example, la Samaritaine, this department shop in the center of Paris that used to be a little popular, like the BHV, now it's been transformed into a temple of luxury and I do not know if it's really aimed at Parisians. But in any case, today we can no longer rely only on foreign tourists.
What Christmas miracle do you want for the future of tourism in Paris?
I do not believe in miracles, but I would like to see the unprecedented tourism wave stopped. However, this would require some serious rework of the tourism strategy of the city of Paris, which has so far focused its entire model on buses of foreign tourists. I would like to see those in charge rethink their policies and return their focus to the needs of locals. It's a shame that it's become so complicated to go to the museum when you are in Paris. I think Parisians should also feel the desire to discover their city. So how about
free access to the Louvre
? Tourists usually only want to see the 10 most important works of art, but locals can visit the museum more often. We should consider the different needs and uses of the city.
Paris can only implement a sustainable tourism model if everyone benefits of it.
Why Fair?
How it works:
The Host earns the same,
the Guest pays the same
but the benefits are for the whole community.
50% of our platform fee is used to fund a project of your choice for the communities you visit.

This is a what we call
Community Powered Tourism.